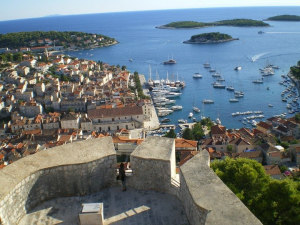 Hvar town is the largest town on the island. Hvar is located on the south side of the island, and today is the administrative, legal, historical, economic and tourist center of the island.

The old town of Hvar city walls from the 15th century illustrates the importance of the most loyal and well-preserved history and tradition. Town Square is the largest square Pjaca on the Croatian coast, adorn St. ga. Stephen from the Renaissance era (15 century) with a bell tower (17th century), which is among the most beautiful in Dalmatia. In the square of the arsenal and the oldest theater in Europe dating from 1612 Beautiful Fortica fort from the 15th century is now open as a museum and is one of the tourist attractions from which there is a beautiful view of the open sea.

In front of the sheltered bay in which is situated the town of Hvar spreads Pulp limestone archipelago islands has beautiful beaches and bays. The most famous island is known as Palmizana botanical garden.